Organic Full Spectrum CBD Oil
HEAL – CBD Oil For Cats
1100 mg Full Spectrum Hemp Extract (CBD) for Cats
$99.99 — or subscribe and save 10%
HEAL is a proprietary full-spectrum formula designed to enhance your cat''s endocannabinoid system and address a variety of challenging health conditions. This high potency oil contains simple, high quality ingredients including MCT-3 Oil and full-spectrum hemp extract with CBD and other naturally occurring cannabinoids.
HEAL has the potential to address numerous common illnesses, including Seizures, Autoimmune Disorders, Degenerative Diseases and more.
Quality You Can Trust
Our full-spectrum CBD oils for cats are made to the highest quality standards, in order to deliver consistent, safe results.
Domestic, non-GMO
Grown organically without the use of pesticides and herbicides
CO2 extracted for highest quality oil
Free of residual chemicals and solvents such as ethanol and butane
100% food grade
Every product is tested by an independent third-party laboratory for purity and potency.
Vet Approved
At CBD Dog Health, we trust the science. That's why we work closely with our team of veterinary advisors, including chief veterinary officer, Dr. Zac Pilossoph to ensure our products are both safe and effective.
Together with our vets, we ensure all products and protocols are aligned with the most current information available, including clinical research and expert medical opinion.
Ingredients
Full Spectrum CBD Oil- CBD Oil has been proven to provide ALLERGY RELIEF, REDUCED INFLAMMATION, INCREASED MOBILITY AND JOINT PROTECTION, IMMUNE SYSTEM SUPPORT, PAIN MANAGEMENT, IMPROVED SKIN HEALTH, NEUROPROTECTIVE PROPERTIES, IMPROVED GUT HEALTH and MORE!
HEMP SEED OIL- Provide your pet with the perfect ratio of naturally occurring omega-6 and omega-3 fatty acids (3:1) to moisturize the skin and fur without the side effects of fish oil. Prevent and heal dry nose, acne, eczema, rash, and dandruff while thickening fur texting and reducing shedding. And, do so without the psychoactive effects while increasing cognition. 
MCT OIL- MCT oil is made by extracting medium-chain triglycerides (MCTs) from coconut oil. MCT oil can aid healthy weight and fat loss, boost brain power, support gut health, increase energy levels by increasing ketone production, and help control hunger. 
1 ml dropper contains at least 37 mg of CBD. Each 1 oz bottle contains approximately 30 mL servings. Graduated dropper (with mL measurements) included.
HOW MUCH CBD OIL DO I GIVE MY CAT?
IMPORTANT: Sensitivity to CBD oil ranges from case to case, independent of weight and size of the animal.
Dosage is most effectively determined with consideration for each animal's unique physiological condition. This includes characteristics such as their endocannabinoid system, age, metabolism, disease process, current ailments and other individual health factors.
FLEXIBLE DOSING
During the first few weeks, we recommend a trial and error method as you monitor your animal's response and determine optimal dose. The old saying "start low and go slow" is extremely applicable when considering full-spectrum hemp extract for your animal.
One dropper of HEAL contains the average effective daily dose for senior animals and those suffering chronic conditions. This is a benchmark that works for most animals, however you may need more or less depending on the function of their endocannabinoid system and other physiological attributes.
HOW TO ADMINISTER CBD OIL
Shake the bottle before each use.
Apply the oil directly to the gums, or as close as possible.
Wipe the dropper clean after use to prevent contamination.
Store in a cool, dark place.
MICRO-DOSING
Split the total daily dose into 2 or more smaller portions (micro-doses) to maintain consistent blood concentration levels.
According to preliminary research, blood concentration after oral administration typically reaches peak levels after 2 hours and is mostly eliminated from the body within 6-8 hours.
TRY KEEPING A DAILY JOURNAL TO TRACK YOUR ANIMAL'S RESPONSE.
Keep a log of the dose in milligrams (mg) of CBD.
Record some information about how they respond (eg. energy levels, mobility, symptom relief, sleep patterns etc.).
Adjust accordingly. We encourage you to be flexible with the dose until you find the right amount for your pet's specific needs. If you're worried about giving too much, rest assured; Research shows that hemp is extremely safe for your animal, even at incredibly high doses.
IS CBD SAFE FOR YOUR CAT?
MONEY BACK GUARANTEE
We hold ourselves to the highest standard when it comes to your pet's satisfaction. If you are not satisfied with our product, return for your 30-Day Money Back Guarantee!
NO IFS, NO BUTS, NO DISAPPOINTED PETS
#HEALINGNATURALLY
Customer Reviews
Write a Review
Ask a Question
04/13/2021
Barbara bmstewart13@msn.com

US
Game Changer!
I have been giving my FIV-positive kitty HEAL twice daily for almost a year. When I started, he had a host of health issues from the virus that manifested in tumors, dental issues and respiratory symptoms. He is now symptom-free and the picture of health. I will continue to give him HEAL twice daily for the rest of his life.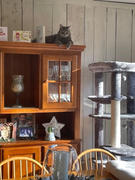 02/07/2021
Barbara S.

US
An Integral Component of Thom's Healing Protocol
My special needs kitty has had many health challenges in the two years he has been with me. He was found on the street of a busy city at four-years old and was FIV-positive. He tends to be anxious, has had tumors in his mouth that needed to be surgically removed, viral symptoms, tooth extractions, vaccine injury and other challenges rooted in a compromised immune system. Since he has been taking HEAL, he has continued to improve dramatically. I used HEAL instead of toxic pain pharmaceuticals after surgery and to ease his anxiety. Thom now has no viral symptoms, and is calm and comfortable. I also view it as a preventative as I believe this formulation will address future health issues including the possibility of other tumors. I am forever grateful to have found this high-quality product and the company that places the well-being of the animals they treat as their number one priority. Thank you!
09/01/2020
Barbara S.

United States
I Believe in the Science
I purchased HEAL for my recently rescued FIV-positive kitty who has several health issues. It's too early to know the outcome since he has only been taking it for two weeks; however, I believe in the science behind the product. I have been treating him completely holistically because I believe that conventional treatment has too many risky side-effects and addresses only the symptoms instead addressing the root cause of disease. Time will tell for sure, but I believe that HEAL will contribute to healing and optimum health for him instead of giving his body one more toxin to mitigate as with conventional drug therapies.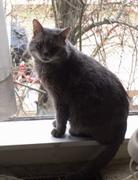 08/27/2020
Barbara bmstewart13@msn.com

US
I Believe in the Science
I purchased HEAL to address health issues, including cancer, in my recently adopted FIV-positive male kitty. It's too early to know for sure, but I do believe in the science behind the product. I do not believe that conventional/chemical treatments "cure" disease. I believe they may address symptoms of disease but not the root cause, and create a very poor quality of life. Time will tell but in the meantime, I am sure I am giving Thom the best chance at a happy and comfortable life with HEAL.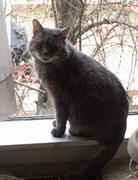 my BARON has been on HEAL1100 mg for about 3months the severity of his Seizures are much better lasting only a minute or two times wise not much improvement ALSO SEEMS CALMER
I love this stuff. It works fast and I can tell my cat is so much more comfortable in her twilight years because of it.